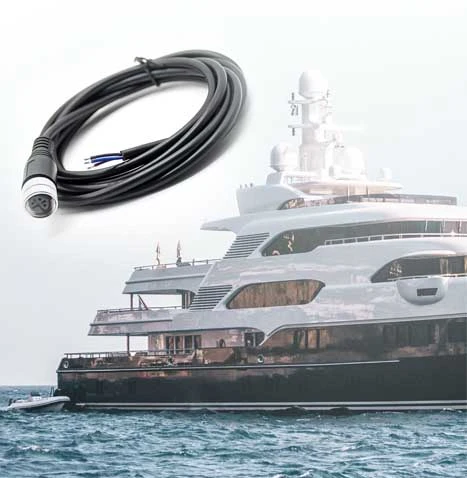 What is the definition of NMEA 2000/what does it do
NMEA 2000
 (National Marine Electronics Association) cables and connectors for data communication between shipboard electronics are a plug-and-play industry standard for connecting marine instruments within ships, enabling multi-talk/multi-listening networks and causing no interference between devices.
Molex designs, manufactures and supports a complete line of open standard cables, cable assemblies, connectors, terminals and power supplies that support the NMEA 2000 system.
OLINK Cables
 has also broken new ground in NMEA design, with in-house team development, technical equipment updates and overall production increases.
NMEA 2000, commonly abbreviated as NMEA2K or N2K, NMEA 2000 is running at 250 Kbps, 50 times faster than NMEA 0183. A low-cost data network using a Controller Area Network (CAN) integrated ribbon circuit (IC) (see this Wikipedia introduction to
CAN bus
 for details.) The NMEA 2000 includes standard connectors and cables for use by all manufacturers that adhere to the standard. This makes the NMEA 2000 a "plug and play" system with real-time data flow. It allows multiple electronic devices to be connected together on a common channel so that information can be easily shared. Ship navigation automation system is an integrated platform management system marked by computer network, fieldbus and control technology. The basis of ship information integration is the unified control and management of the whole ship equipment so as to realize the single manning of the ship (OMB), realize the whole ship automation using computer automatic control and management technology, and integrate the piloting, engine, power station, cargo handling and ship status monitoring and operation management It integrates the pilot, engine, power station, cargo handling, ship condition monitoring and operation management, etc. together. The integration of ship information is beneficial to the acquisition of various underlying equipment information data, thus adding new application functions. Since the various navigation, control and positioning equipments of ships are many and distributed in different places of the ships, unified data transmission standard is needed, the proposed NMEA2000 protocol adapts to the requirements of the development of ship automation technology. This means that devices from different manufacturers can send and receive data simultaneously on a ship.